Dr. Mary Honan interviews B.I.T.A board member Prof., Dr. Michael Casey on the International Significance of the Tipperary Peace Convention/Peace Award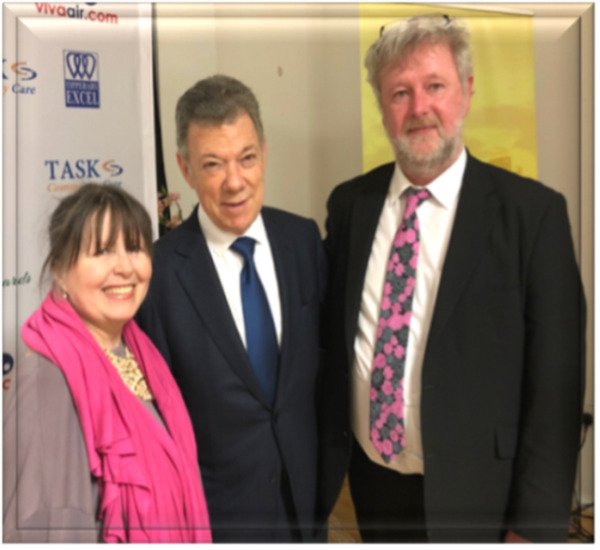 L to R: Dr. Mary Honan (Limerick) – Academic Researcher in Peace/Conflict Resolution and Cultural Commentator, H.E., Mr Juan Manuel Santos Calderon - Former President of Columbia (2010 – 2018) and Nobel Peace Laureate (2016) and Dr. Michael Casey (Tipperary) - Fellow/Professor of the Irish State.
………………………………………

As someone who has spent more than a decade writing about, researching and trying to promote peace and reconciliation and the importance of dialogue, I was greatly pleased to have been invited recently to the Tipperary Peace Awards when the honouree was Mr. Juan Manuel Santos Caledron (President of Columbia and Nobel Peace Laureate). Since its first recipient in 1984, the late Seán McBride, founding member of Amnesty International, there has been many world renowned recipients of this much coveted award, including, in 2013 Malala Yousafzai, the 16 year old Pakistani girl who came to the world's attention after being shot for trying to encourage education for girls in Pakistan. The prestigious list of recipients also included Dr. Sima Samar, in 2010, for her work in fighting for freedom and democracy in Afghanistan, and in 2014 Mr Ban Ki-moon, in acknowledgement of his work on climate change.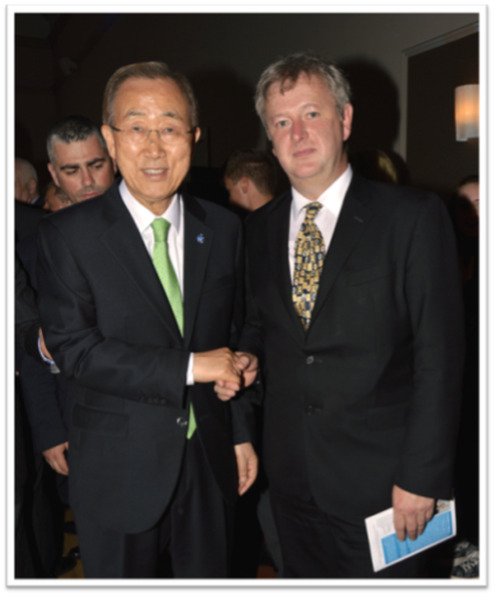 L – R: Mr. Ban Ki-moon, Former Secretary General of the United Nations (2007 – 2016) with Dr. Michael Casey, Fellow/Professor of the Irish State.
Closer to home, and more recently, recipients included, in 2011, former President of Ireland, Mrs. Mary McAleese and her husband Mr. Martin McAleese, both receiving the award for their work in promoting peace and reconciliation on the island of Ireland.
L – R: Dr. Michael Casey, Fellow/Professor of the Irish State, Mrs. Mary McAleese, Former President of Ireland (1997 – 2011)and Mr. Martin McAleese, former member of the Irish Senate (2011 – 2013).
Following this auspicious occasion I sat down with one of my fellow attendees, Dr. Michael Casey, Fellow/Professor of the Irish state who sits on the boards of the British and Irish Trading Alliance (B.I.T.A) and the Irish Lebanese Cultural Foundation (I.L.C.F). I wanted to glean from him his views on the award and its impact on Munster, Ireland and globally, a subject on which he has very strong opinions. Like me, he regards it as 'one of the few prestigious events in the Premier County of Tipperary, indeed on the Island of Ireland to link us, in the twenty first century, to a transnational audience'. We are both in agreement that much of its success can be attributed to the 'enormous work carried out by Mr. Joe Quinn (Chairman) and Mr. Martin Quinn (Honorary Secretary) and their Board members. He says that, their work and that of the Tipperary Peace committee is 'to say the least, both admirable and noteworthy in a world that continues to be dominated by strife, famine, war and despotic forms of totalitarianism'. He adds, 'we do not have to look further than events, past, present and on-going in countries such as the Middle-East, North Korea, India and Pakistan as well as Tibet, Georgia, Venezuela, Syria, Yemen and also Ukraine/Crimea, to be able to acknowledge the peace efforts by both men and their dedicated committee, presently including Mr. John Shanahan and the current and dynamic Mr. Guy Jones, president of the Irish Lebanese Cultural Foundation' (I.L.C.F).
Along with his many accolades, in the field of Fine Art, History, Cultural Diplomacy and High Culture, Dr. Casey was recipient of a prestigious scholarship from the Irish Ministry of Education and Norwegian Ministry for Foreign Affairs to study at the University of Oslo (Norway) in the 1990's. He recalls, during his time at Oslo University having many discussions with Fellow/Professor Francis Sejersted (1936-2015) on the Good Friday/Belfast agreement (signed on 10th April 1998 – effective of 2nd December 1999) and the Tipperary Peace Convention/Peace Award. These engagements took place at various university symposia (cultural and educational) and diplomatic functions in Oslo, Stockholm, Copenhagen and Helsinki. Dr. Sejersted – an historian and previous Chairman of the Nobel Committee, which awards the Nobel Peace Prize – 'was hugely supportive of the Tipperary Peace Convention/Peace Award at that time'. Having reflected on their 'multiple parleys over the years', it is Dr. Casey's considered opinion that 'the Tipperary Peace Convention/Peace Award would benefit greatly by establishing an exchange of ideas and opinions/working dialogue with the Peace Research Institute, Oslo' (P.R.I.O). Founded in 1959, this is the oldest and most prominent peace research centre in the world; and, Ireland, as an emerging nation, still of a post-colonial mind-set 'have much to learn from polymaths such as Johan Galtung, principle founder of Peace and Conflict Studies, also, Prof., Dr. Dan Smith, University of Manchester, along with Prof., Dr. Henrik Urdal, Research Director of P.R.I.O and Editor-in-Chief of the Journal of Peace Research, the disciplines preeminent publication'.
Dr. Casey's late friend, Dr. Francis Sejersted, Fellow/Professor of the Kingdom of Norway and Former Chairman of the Norwegian Nobel Committee (1991 – 1995).
As we have learned from Ireland's national peace process, and membership of the European Union (and its various institutions dealing with conflict resolution) we are far stronger as a collective than we are acting alone, for no man, or institution is an island. Dr. Casey believes that the policies of unilateralism, transactional diplomacy, protectionism, and confrontation are not viable alternatives. In his opinion a working dialogue/partnership has brought a level of peace and prosperity to our island and our region and that working closely with other member states of the European Union (E.U) 'has strengthened our independence, self-confidence and security, rather than diminished it' He further notes that Ireland's foreign policy has a strong tradition of 'principled engagement on development, humanitarian assistance, disarmament, peace keeping and human rights'. He also suggests that these values, 'underpin our commitment to a working dialogue/partnership with the E.U, the United Nations, (U.N) and he pays particular tribute to the work done by Co-operation Ireland and Global Peace Foundation (G.P.F), particularly to these organisations 'preeminent leaders, Mr. Peter Sheridan O.B.E (C.E.O. Co-operation Ireland) and Mr. James P. Flynn (International President of Global Peace Foundation)'.

Dr. Casey further articulates the necessity for continuing advocacy of a 'practical and intellectual reverence for human life: a concern for social justice: challenges in inequality as well as an appreciation for the arts and sciences: respect for sexual orientation and, it goes without saying, political and religious freedom'. Indeed, he concludes that such philosophy is evidenced in the true nature and international significance of the Tipperary Peace Convention/Award. For the sake of humanity and all concerned with this great prize, we can but hope it continues to grow globally; for, in the words of Dwight D. Eisenhower, a view both Dr. Casey and I share: 'We seek peace, knowing that peace is the climate of freedom'.
Written by Dr. Mary Honan (Limerick)
On 16th May 2018, as part of the British and Irish Trading Alliance's programme on Education, Research, Innovation and Culture (E.R.I.C), Dr. Mary Honan, Academic Researcher in Peace/Conflict Resolution and Cultural Commentator, was honoured with an award and civic reception from her home city, Limerick. This prestigious civic event was hosted by Cllr. Seán Lynch, Former Mayor of Limerick, in recognition of her 'outstanding academic research on race and ethnic relations, peace and reconciliation'.