HR is something that affects every employer; essential but also an area that many of our members can find difficult in terms of keeping up to date and implementing the right processes and documentation.
To assist remedy this, we are working with BITA members YourHR.guide and PeopleTime to bring you a new resource that will give you guidance and templates around all areas of HR. HR in the UK and Ireland is slightly different, so please make sure you visit the HR Hub that is relevant to your business, by using one of the buttons below.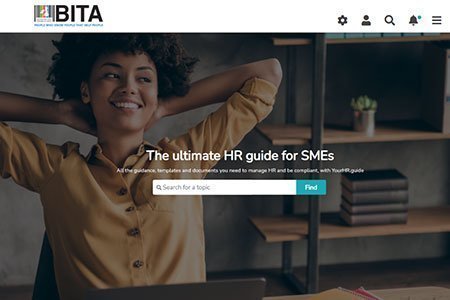 FREE Access:
Access to this system is a member benefit, and members can access around 40% of the resources for free. This means that you will benefit from:
Receiving notifications about updates to employment law / HR regulations
Having access to over 50 HR templates and 70 pages of guidance notes.
Being able to put in place basic minimum HR requirements using the FREE templates available.
At Additional Cost:
For those members who would like access to more guidance and templates, you can upgrade to BITA+ membership and gain access to:
Over 200 HR templates including policy documents and contracts of employment.
Over 150 pages of HR guidance, covering recruitment to termination (and more!)
You will be able to put in place all the HR processes and documents you need and be HR compliant (including contracts of employment and HR policy documents).
You will receive regular notifications about updates to employment law / HR regulations and updates to content.
Members can upgrade to BITA-Plus for just £240, meaning that membership would be £896 inc. VAT. This is an exceptionally cost-effective solution to allow you to implement all the HR documentation you may need and access guidance.
Contact [email protected] to upgrade your BITA membership.