Ballymore is a family-run property developer with a multi award-winning portfolio of some of Europe's largest and most transformative urban development projects. A privately-owned company, Ballymore was established by Chairman and Group Chief Executive Sean Mulryan and his wife Bernardine in Ballymore Eustace in 1982. Sean Mulryan also acts as a Parton for BITA UK.
Ballymore's projects are defined by their originality and a commitment to quality. The company oversees every element of design, construction, and facilities management, constantly aiming to challenge industry norms. Driven by a desire to set new standards in architecture, development, partnerships and places, this commitment is evident in every detail– and is the reason Ballymore has received more than 40 industry awards in the last three years.
Ballymore has significant land holdings across the UK, Ireland and Europe. The company looks beyond well-established areas to discover and establish new locations by identifying sites and then creating remarkable places that deliver unparalleled experiences – places with soul. Its approach has resulted in a number of headline-grabbing projects, including the world's first 'sky pool' at Embassy Gardens, a European-first for English National Ballet's purpose-built new home at London City Island and working with the US Embassy to move from Mayfair to Nine Elms.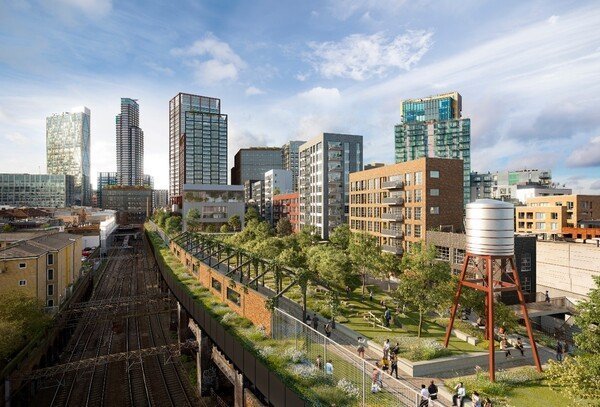 Above is the Bishopsgate Goodsyard plan, which joint venture developers, Ballymore and Hammerson, have been working on for 18 years. Spanning the boroughs of Hackney and Tower Hamlets, the site sits between Shoreditch and the City, being described by Ballymore group managing director John Mulryan as, "one of the greatest remaining opportunities in the whole of central London for major regeneration".
With the backing of London mayor Sadiq Khan, this will form a living and working, culture and leisure quarter in the heart of the capital.
Other current projects include The Brentford Project, Embassy Gardens, Wardian and Royal Wharf to name a few. Further details of current, past and planned projects can be found on our website.